Perfect weather came back later in my Stockholm week, but by Day 2, Sunday, the clouds were out. Monday was chilly. Tuesday was damp and cold. These photos are from Sunday and Monday. World Water Week officially started at 9 a.m. on Sunday (really) and after several panels, seminars, and plenaries, I went on a Bridges of Stockholm boat tour, from which I caught sunset over the water and viewed a lot of "Functional Architecture," which I thought was quite nifty with their floor-to-ceiling windows. On a side note, I don't know if the tour guide made that up or was translating something because I can't find a single reference to this style online. Another side note: I'm never doing another boat tour again. I remember now swearing that in Amsterdam, what 7 years ago? I have to remind myself the next time someone suggests one that I can't stand it after the first half hour. On the way to the docks, I stopped at the flea market outside the Konzerthuset (where the sculpture is at) and Haymarket (orange mushrooms,  lingonberries anyone?) Lots of color, random antiques, and strange second-hand clothes. Plus a vendor who wanted me to see his mobile video of a truck driver in India…in Swedish.
Monday night, we were guests of the City and were invited to the opening reception at Stockholm Stadshuset (City Hall). (Who does that? Not India, certainly!) It was cloudy and cold, the sun had started to go down, I didn't get any pictures worth sharing from outside, but the space is amazing. The night before, our tour guide had shown it to us from the boat and told us that the monumental tower's 'three crowns' are each the size of a hatchback car. Up close, standing 350 feet beneath them, it was a little easier to grasp. And inside! Well, besides the feast of herring and salmon served with cheeses and rhubarb/raspberry pie (I pay attention to food, what can I say?), its high ceilings and courtyards were impressive. The building was only finished in 1923 but they purposely used the red bricks that were used in constructing old monasteries and churches and you can certainly feel the weight of the years. This is also where the Nobel Prize banquet is held. I can't believe they thought we were worthy enough to be in there!
Oh, and then I hopped across to Stampen where I met the cousin of a twitter friend from Karachi 🙂 (Twitter zindabad!) It was raining out and the streets were deserted at 9pm, but the lights from Stampen glowed and the music welcomed us in.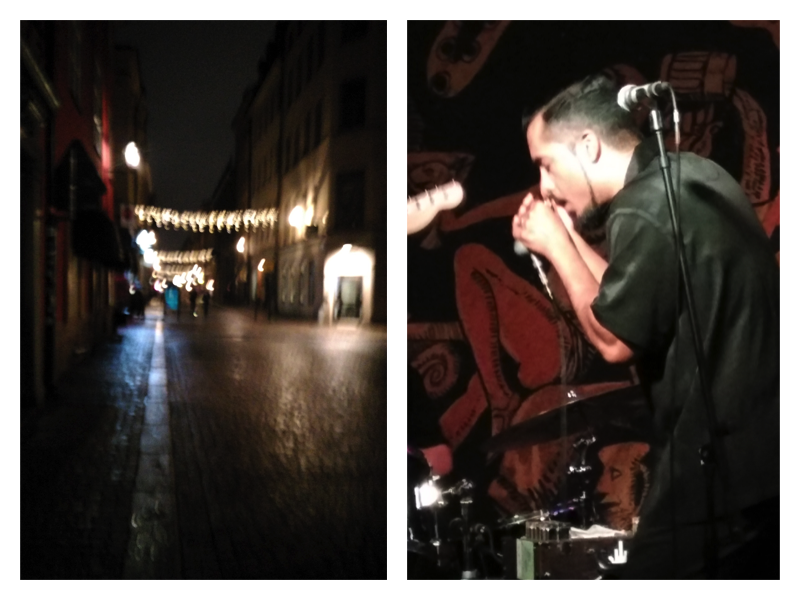 It was stuffy inside, and I shudder to think what it's like on a weekend when it's packed, but under the influence of the local pear cider and the dangling panoply of completely random shit (several single boots, trumpets, a cycle wheel, a hat, dolls, a full mannequin, a Viking helmet, and more, and more, and more), I had a stampin' good time to Aki Kumar's blues.