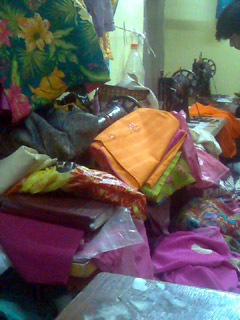 India, shining, rising and ever colourful. The travel guides gush about the vivid colors everywhere (hmm, actually, so does every book on India ever, no?)
Of course, it's true. We do colourful very well here. We sometimes leave vivid way, way behind and move into the territory of garish and  outlandish with some dexterity.
Anyway, this is the inside of a teensy tailoring shop that is owned by a lower middle class sharp-talking, tobacco-chewing lady who employs three 'masterjis' to do the actual tailoring. At the outer edge of this tumble of color and texture you can see one hunched over an old-timey sewing machine.