Okay, so I'm breaking with tradition and actually posting a recipe here. I miss #bglsr – that was the perfect forum to post this.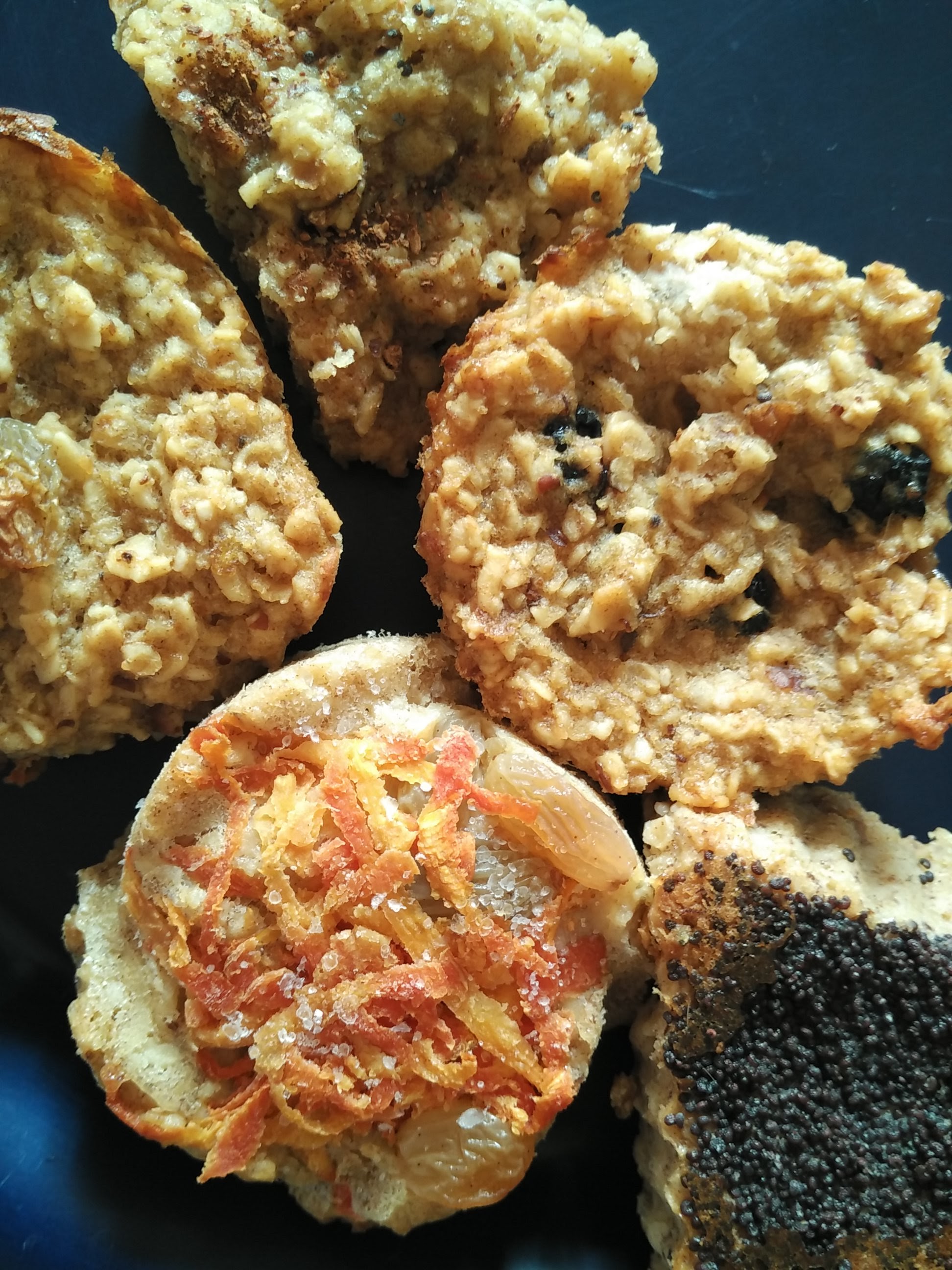 So here goes. I usually bake a whole tray (that's 24 cupcake sized) at one go, put them in ziplock bags and store them in the freezer, popping one (or two) out a few minutes before I want to eat them.
They're small, but packed with good stuff. And they're sugar-, gluten-, and dairy-free if that sort of thing floats your boat. A vegan variation is in the ingredient list. But, mostly I like them because I can make them ahead of time and not have to think about breakfast.

Totally customizable and fabulous make-ahead breakfast squares.
You'll need a mixing bowl, lots of cupcake moulds, and 20 minutes prep time.
Pre-heat your oven to gas mark 5 ~ 375 C (190 F)
Ingredients:
ripe bananas x 2 large (or 4 small elaichi)
dates x 14, deseeded, mashed in a little warm water
oats x 3 cups
oil, 1/4 cup
soy milk, optional, 3 T to 1/2 cup
eggs x 2 OR 3 TB ground flax seed soaked in water for 30 min
2 tsp baking powder
1/2 tsp salt
and toppings: ground cinnamon, dried berries, flax seeds, nuts, chocolate chips, raisins, whatever you have at hand


1. Prepare the toppings. I love this part. From the pictures you'll see I made 5 different types:
blueberries, raisins, grated carrot and raisins, ground cinnamon (I grind it myself), & poppy seed
Now quit fooling around and get to the rest of the prep.
2. In a large mixing bowl, start by mashing the dates with the tines of a fork, after which I add in the bananas and if I have any pears or apples around, I grate them in, too. (You can also use the blender for the dates, but I suggest a spoon or spatula to keep the rest goopy and lumpy for texture.)
3. Add in the oil & soy milk
4. Add the eggs (or flax) and blend
5. Shake in the salt, baking powder, and oats one cup at a time (though, to be honest, I've left the salt and bp out by accident before and it made no difference that I could tell) and combine.
The batter should be very oaty and still moist when blended. If it starts to dry heave, stop, stop, stop adding oats.
I use an ice-cream scoop to drop batter into the ready moulds until they're 3/4 full. You can use the back of the spoon to mix up the toppings. I tend to leave some of them – like the grated carrot – as they are, so they stay on the bottom.

Bake for 25-35 minutes (depending on your oven) and take them out when a tester comes out batter-free from the centre.

Freeze for up to two months. Enjoy your cleverness.